In order for a content marketing strategy to be successful, many teams across a company need to be alignedand involved in its execution.
Yet, today's marketing teams, especially in large enterprises, are just starting to organize themselves to properly support a content marketing strategy and get buy-in from all necessary stakeholders. Often, an internal organizational transformation is required.
An editorial board can be a core part of this transformation. An editorial board defines the full process around the content marketing strategy, handles all content-related requests and issues, manages the content distribution and amplification strategy, and establishes the content ROI measurement framework. In addition, especially in large organizations, the editorial board ensures alignment and coordination between divisions and content sources. It may also have the task of finalizing an internal content communication and distribution plan. Editorial board members include key internal stakeholders from across departments who play a role in executing a company's content marketing strategy.
Establishing an editorial board takes time, especially in large, traditional marketing organizations. But the upfront investment is worth the long-term payoff. In all the B2B and B2C enterprises where I've facilitated the creation of an editorial board, it's laid the foundation for a successful content marketing program. In fact, those companies have been most successful when following the editorial board models of traditional publishers: holding weekly editorial reviews, managing editorial calendars, and sticking to journalistic principles. These practices can raise your strategy from basic to superb.
Here, a guide for creating an editorial board in your company.
What does an editorial board do?
The editorial board usually:
Generates content ideas
Ensures that content is being created to address all audience personas
Gets content approved quickly and smoothly
Stops random acts of content and ensures that every piece created aligns with the strategy
Analyzes and optimizes content performance: Amplifies content that is working and stops content that isn't working
The board manages what I call the "content ecosystem": all the internal writers, guest bloggers, agencies, and freelancers that support editorial efforts.
It's important to note that editorial boards aren't just for planning: They're good for idea generation and the creative process, enabling participants to bounce ideas around. Editorial board brainstorming sessions are the best way to put a governance process in place and to make sure that "the right" content is being created.
Who should be part of an editorial board?
An editorial board should be made up of key players from every part of the business that will handle content. Getting these stakeholders all together on a regular basis will help break down the silos, open up communication, and create beautiful consistency throughout your content strategy. The choice of editorial board members depends on the central marketing organization, which can be complex or lean. In general, I suggest the following macro-areas of expertise:
Content and Persona Owners: As the titles imply, these members are responsible for content and personas. Content and persona owners can be strategic marketing reps, product managers, or technology leads; these are people who will have been reading around key topics, talking to customers, and attending events, so they have lots of relevant current knowledge to draw upon.
Channel/Content Distribution owners: They are experts on media and content distribution via different channels: email newsletters, social media, SEO, SEM, paid media.
Geographies: It's beneficial to invite one or more countries to editorial board meetings. The advantage is twofold: getting early input about upcoming content from local markets, plus learning about new content created at the local level that might be "elevated" to the global level.
A Managing Editor (or, often, the Content Marketing Director/Leader) should be appointed to coordinate the editorial board, oversee the strategy implementation, and then drive content through the system. The Managing Editor owns the content calendar, plus measuring and optimizing content performance, and reporting results to the editorial board and other stakeholders. The Managing Editor should also decide on which content is curated, commissioned, or created.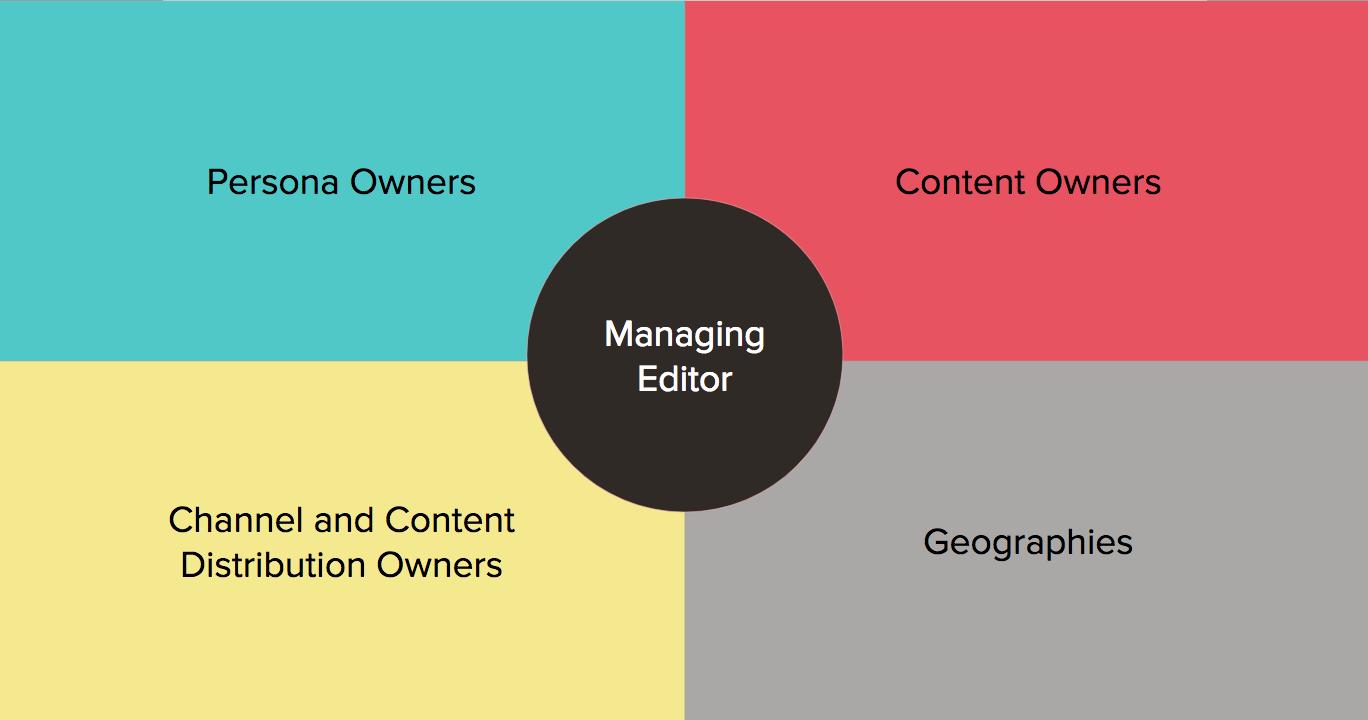 A content marketing editorial board
Whether editors are employees of the businesses or part of an outside agency, their job is to understand how a brand's voice and the specific objectives of a brand publishing program should play out in content. From that editorial foundation, the editor can assign the appropriate writers for the job, and, through a substantive editing process, make sure they've nailed it.
The table below describes common editorial board job roles:
| | |
| --- | --- |
| Job role | Description |
| Executive Sponsor | Attends meetings when needed or once a quarter to check in. |
| Managing Editor | Drives the editorial board: manages the master editorial calendar, schedules and leads board meetings, sets agendas. Has the most visibility into the content creation and distribution programs. |
| Content Marketing Leader | Is the "owner" of content and responsible for the content budget, optimization, execution/production, and governance. |
| Assistant Editor/ Recorder | Keeps track of the meetings: concerns, key themes, objectives, and needs of the teams. Distributes the notes to the editorial board after each meeting. |
| Content/Persona Owner | Holds deep insight into the persona and buyer's behavior in order to inform content choices and priorities. |
| Regional Lead | Establishes the connection between hub and regional sales teams. Brings regional customer insights and champions opportunities to meet sales priorities. |
| Portfolio Lead | Establishes the connection between hub and key business themes. Represents the key Product and Solutions opportunities and key market sector insights. |
| Insights (Research) Lead | Provides customer insights and ensures that teams are creating content tailored to customers. Also provides primary and secondary research and social listening. |
| Channel and Distribution Leads | Provide expert insights about content distribution channels, including email newsletters, social media, SEO, and relevant tools (e.g. Sprinklr). |
| Brand Messaging Leader | Ensures content hub reflects the corporate brand direction and that the content team deeply understands the messaging, personas, and company objectives. |
| PR Lead | Establishes connections between the content team and the wider corporate brand and PR teams. Brings customer insights and champions opportunities to leverage newsroom content for PR purposes. |
The editorial board is usually involved in two different types of meetings: editorial board meetings and work in progress, or weekly stand up meetings. In some cases, especially in less complex organizations, the two meetings coincide to save time and organizational efforts. The Managing Editor will typically lead both meetings.
Editorial board meetings are strategic. During these meetings, attendees will set the editorial agenda, tone, and direction. They'll evaluate market changes and content and hub performance. These meetings also include content brief reviews, budget allocations, content calendar updates, and success sharing.
Work in progress meetings are very operational with the goal of managing the editorial publishing calendar, overseeing the production of major content assets, optimizing content activities, and coordinating distribution activity for the content.
What does an editorial calendar include?
The editorial calendar is the editorial board's tool for keeping all parties aligned. It is much more than just a calendar with content assigned to dates. A good editorial calendar maps content production to audience personas and phases of the buyer journey. An editorial calendar allows everyone involved in the editorial board to see what content ideas are being worked on, when they're likely to be completed, and if any issues have arisen. You can divide up the calendar by theme, so you can easily check if you're producing content around all of your key pillars, or if you're focusing on one at the expense of others.
The calendar can live in something as simple as an Excel file, a Google sheet, or a Trello board. Or, your editorial calendar can live in a software solution, like NewsCred's Content Marketing Platform. Your editorial calendar should be updated after each meeting and when progress with content has been made.
At a minimum, the editorial calendar should show:
Content ideas and how they align to pillars, themes, and personas
Macro-moments: The events or company launches impacting the audience that are going to happen in the current year. Some of these macro-moments are predictable (e.g. product and campaign launches, events, regulations), others are not.
What actions are being taken on the ideas
Who is writing the content
In what format the content is being written
Due dates for completion
The fact is, there should be two calendars in place: the (content) production and the distribution/publishing calendars. Here is where software like Content Marketing Platforms (CMPs) can make the difference and increase the board's effectiveness. In absence of a proper CMP, production and distribution could be unified under the same spreadsheet.
Should local markets have editorial boards?
While the central editorial team will lead content strategy at a global level, a local editorial board should be in place in each major market (country or region) to manage proper local content planning and distribution. The choice of editorial board members depends on the local marketing organization. In general, I suggest the following members:
A field marketer responsible for operations in that specific country
A digital marketing lead (or individual channel distribution leads – social media, web, newsletter, SEO – in larger organizations)
A content lead (assuming that the country has a content lead)
A strategic marketing lead (or a local product marketer)
Members of the local content agency, if an agency is supporting local operations
The local editorial board will agree with the central team on target personas, lead the decision for adopting content created centrally, negotiate with local vendors, and engage members of the central team to secure a strong, continuous dialogue.
Conclusions
It should be clear at this stage why an editorial board should be part of every content marketing strategy and how it will lead to stronger business results. I've established editorial boards with good success with clients and for my own marketing division, and find they are critical to create a regular flow of original, high-quality, and relevant content, and to support the overall content marketing strategy.
Do you have an editorial board experience to share?
If you run an editorial board for your organization or your clients, I'd love to hear your experiences and tips. Please share with me on Twitter at @giusec or @newscred.
Giuseppe Caltabiano is a Content and Digital Marketing Keynote Speaker and Author.